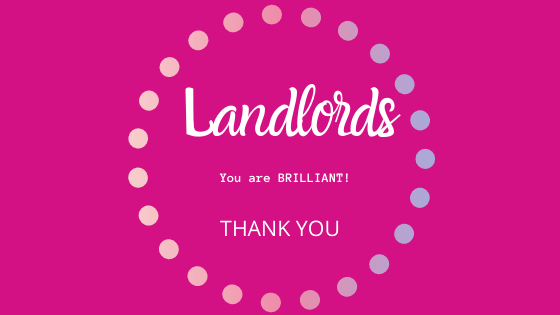 The kindness and understanding of our Landlords to their tenants throughout the COVID-19 lockdown has been something else. Landlords are making decisions that impact them adversely, yet they have all done it without a murmur. So, if you are one of our landlords, thank you. You're brilliant.
Having worked in the residential letting market for what feels like centuries, I have very unscientifically concluded that broadly speaking; Landlords have two main approaches to agencies, tenants and their properties: a) hands-on and b) touch only when strictly necessary.
In other words, landlords are different in their approach as to how they wish to be involved in the management of their property and their interaction with tenants and agency. That's fine when times are healthy, not so good right now. Now, we needed our landlords to be available to make decisions about rents and to get back to us quickly, and that's precisely what happened. Landlords who usually reply to emails in a time frame where we wondered if they may have been going across the Atlantic in a rowboat, shot back like a homing pigeon on steroids.
Daft as it sounds, it can be easy to forget that the majority of Landlords are in the same boat as their tenants: they are furloughed or lost their jobs too, which makes their generosity even more impressive. Some landlords use the rent as part of their monthly income yet hadn't mentioned the resulting shortfall or queried the tenants when they asked for help with their rent.
I'm writing this at the end of the first full month, furloughed payments haven't come through yet, and applications for Universal Credit have gone through the roof, but no landlord has been in contact asking whether we think they will get their rent. Impressive stuff.
So, back to where I started – thank you.
Written by Anne Sellar, April 2020