Edinburgh has a large number of property managers and letting agents which is good news for you as it means we have to work extra hard to get your business – and keep it! We value all our tenants and aim to provide you with unparalleled support throughout your tenancy.
Our property management team will work hard on your behalf to match you with the right type of property, in the right location, and at the right price. And once you have settled in there is a 24-hour helpline for emergencies if you need us.
Whilst we provide all of our tenants with a comprehensive information pack detailing responsibilities and explaining legal jargon and technical issues, we're always happy to sit down with you and explain the ins and outs of renting if you get stuck.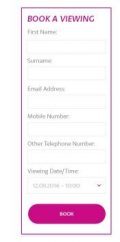 We've made it really easy and quick for you to arrange viewings. When you see a property you like on our website, just click on the viewing schedule on the left and you see the available times we have for viewings.
Enter your details, we will send you a confirmation email, and we look forward to meeting you at the property.